MEZZO is the modifiable side-post parasol for your private garden
The practical parasol fixation of the MEZZO allows opening it in a slanted position und stops it from swinging. Handling the parasol by manual crank and the inclination of the parasol is very ergonomic and convenient. In addition to the standard model (MEZZO MG), the cantilever parasol with integrated height adjustment operated by a gas pressure spring is available (MEZZO MH). The distinctive design and the numerous material and color variations the cantilever parasol is a real eye-catcher!
The advantages at a glance:
 cantilever parasol, therefore optimal mobility
 parasol rotatable by 360° around the standpipe
 parasol rotatable by 180° around the cantilever
 parasol vertically adjustable, e.g. as privacy screen
 solid design
 high quality anodised aluminum frame
 powder-coated spring-steel spokes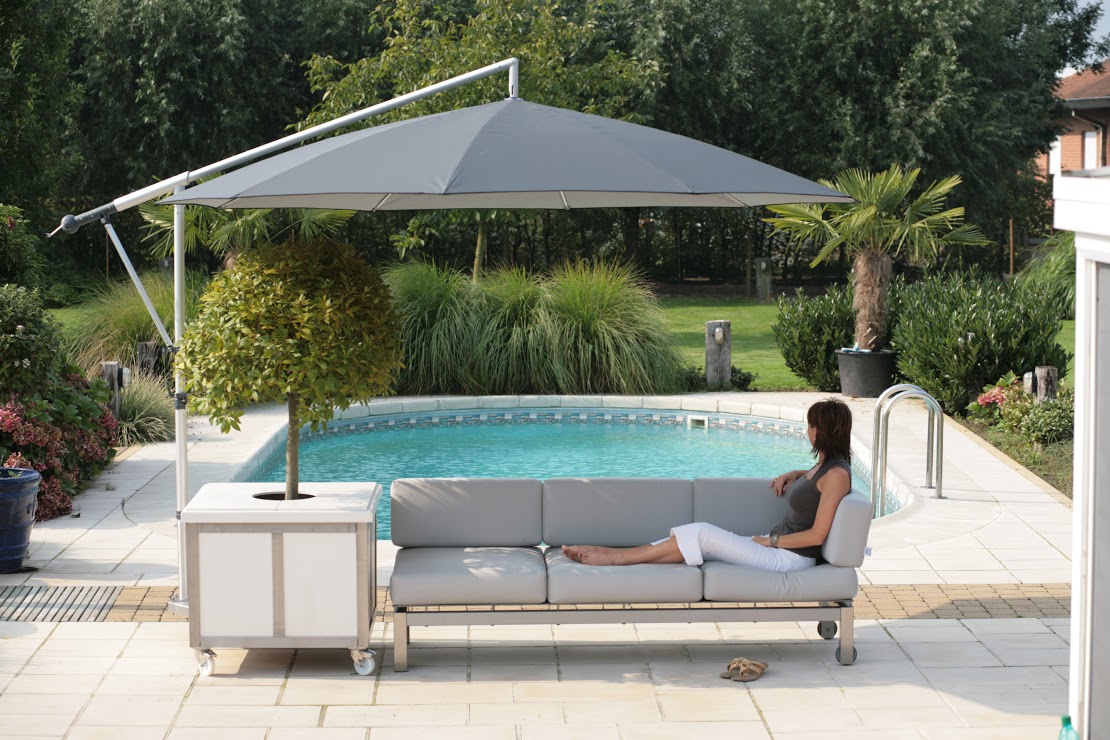 Accessories
Of course May offers a wide range of individual accessories suitable for the cantilever parasol MEZZO:
Replacement covers
Flexible fastenings, like frame stands or moving stands
Matching concrete slabs for parasol stands
Anchor sleeves for concreting the parasol mast
Anchor plates for bolting the parasol mast
Antitheft protection for your parasol
wall fixation for the parasol stands
You will find an overview off the equipment by May in the category accessories or in our latest catalogue, which you can request free of charge or download here.
The May experts are happy to help you with making the right choice about your parasol as well as matching accessories.
Easy operation with just a few handles
The true quality of the cantilever parasol shows itself in the everyday use: the parasol can easily be adjusted to nearly any desired position due to its exemplary mobility and fixated. Therefore the cantilever parasol MEZZO is ideal for sun protection and as a privacy screen. A protection cover will shield cantilever parasol from bad weather.