Eclipse Smart-Heat™ Electric
The Eclipse Smart-Heat Electric series will allow you to go straight from dinner to drinks thanks to its dimmable LED lighting rail and 3 different heat settings. With its sleek ceramic screen and matte black appearance, the Bromic Eclipse Smart-HeatTM series strikes the perfect balance between ambience, style, and functionality.
In addition to the complimentary 24″ Twin Pole, the Eclipse Electric can be paired with five other striking pole designs, including wall-mounted and ceiling-mounted options. For the ultimate in convenience, combine this sleek heater with the Bromic Smart-HeatTM Eclipse dimmer controller and wireless remote to accurately adjust the heat and light coverage from the comfort of your seat!
Request a Quote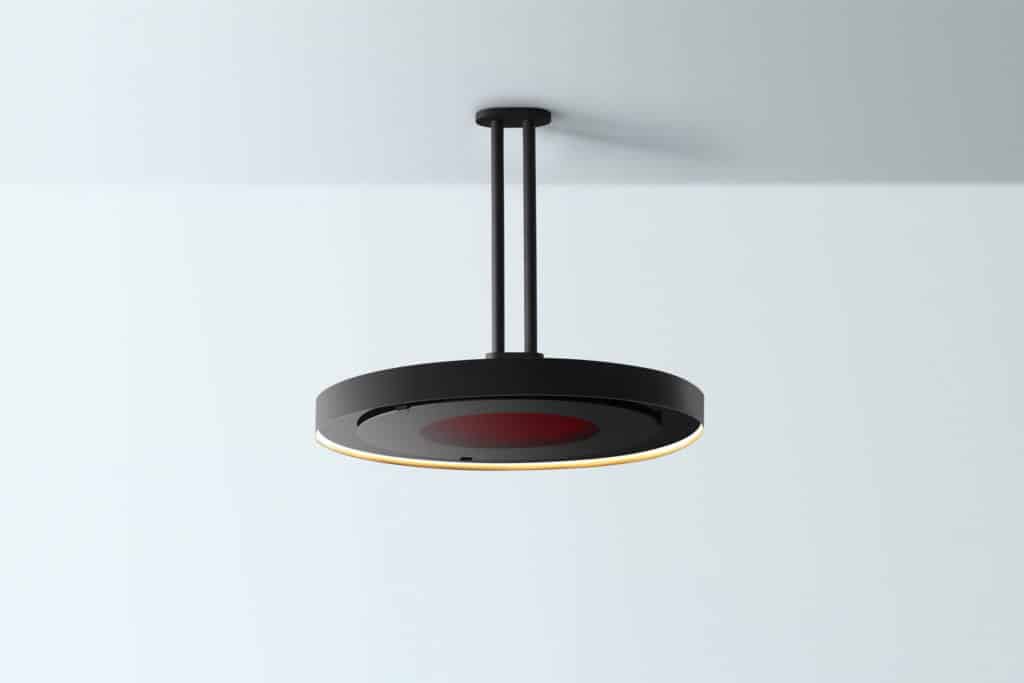 Eclipse Smart-Heat™ Portable
The Eclipse Smart-Heat Portable is a powerful electric outdoor heater that brings radiant warmth, light and style to design-focused outdoor spaces. This portable electric outdoor heater incorporates ground-breaking heat transfer technologies that result in a high-efficiency outdoor heater and dimmable LED light unit with minimalist, yet striking design aesthetics.
The Eclipse Smart-Heat Portable comes with our Eclipse Dimmer Controller and wireless remote, so you can quickly adjust both the heat output and gradually dim the lights to achieve the right level of comfort required for any situation.
Request a Quote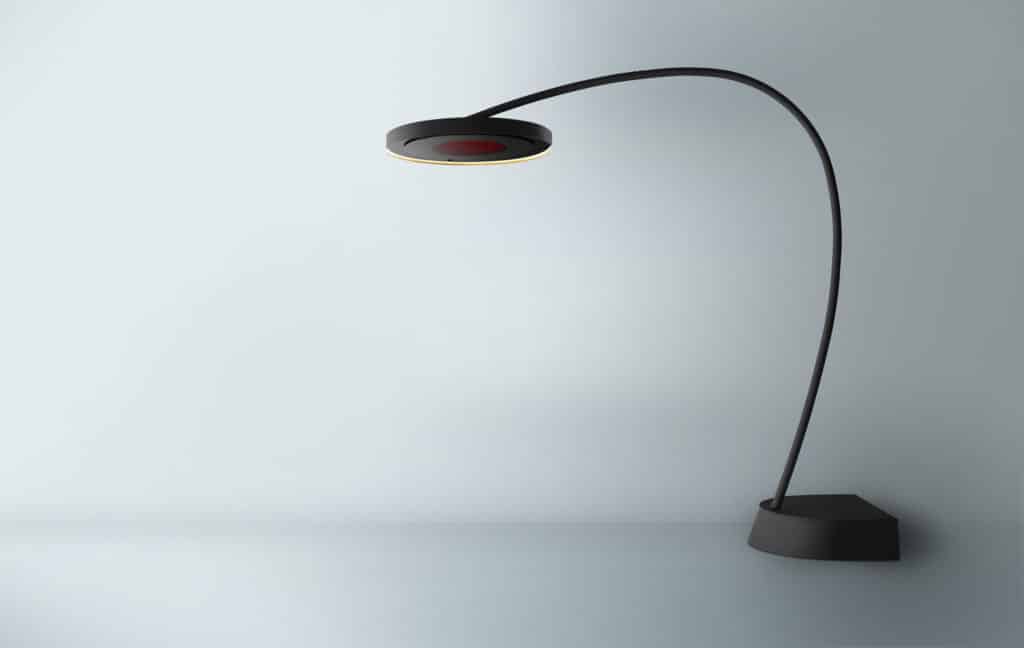 Platinum Smart-Heat™ Electric
Looking for a heater that offers the most effective heating technology, an award-winning design and very little light emission? You found it. With its ultra-slim, high-quality 304 stainless steel chassis and Schott tinted ceramic-glass screens, the award-winning Platinum Smart-Heat™ Electric virtually disappears into its surroundings while delivering market-leading radiant heat output that will warm you and not the air – just like the sun.
Available in both black and white and three sizes (2300W, 3400W and 4500W), this premium heater was specifically designed for low-clearance, semi-enclosed spaces and can be mounted with minimal clearance requirements.
Request a Quote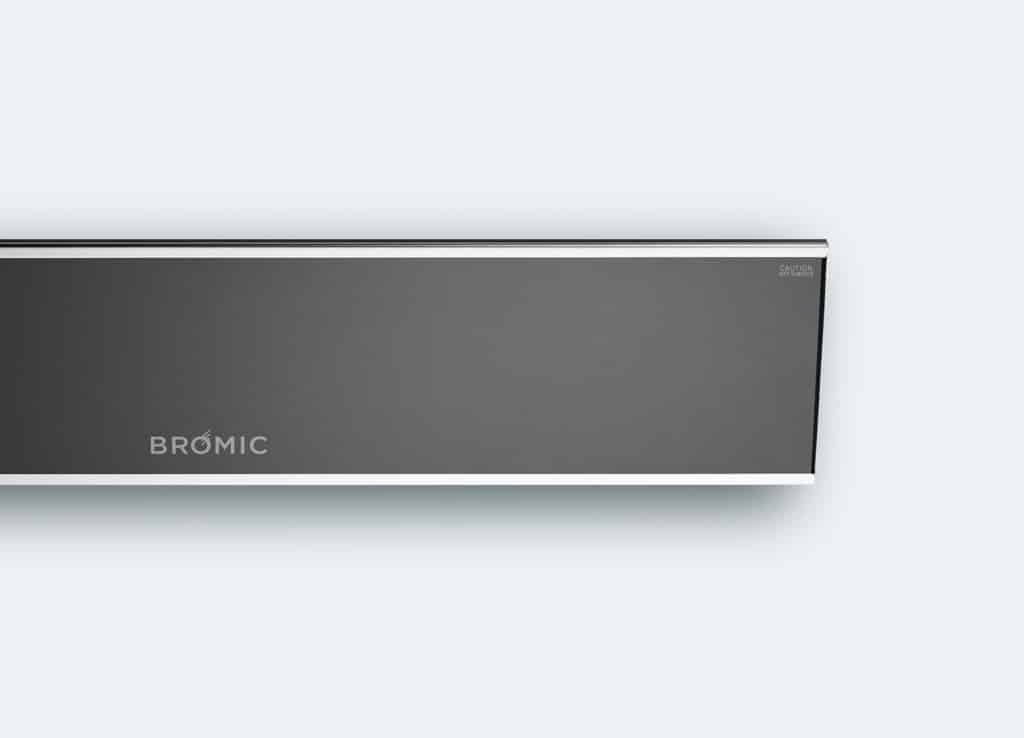 Platinum Smart-Heat™ Electric Marine
Our high-quality outdoor heaters and accessories have been developed & engineered specifically for marine applications and coastal environments and are the only outdoor heaters on the market that are fully Lloyd's register certified. Made of high-quality, AISI316 stainless-steel, Bromic Platinum Smart-Heat™ Electric Marine heaters were specifically engineered to provide superior resistance to the corrosive elements of coastal and marine environments. With their slim, aesthetic design and wind-resistant, radiant heat output, the Platinum Smart-Heat™ Electric Marine heaters are the ideal solution to enrich the comfort experience of owners of coastal residences and superyachts & guests on cruise ships.
The Platinum Smart-Heat™ Electric Marine is available in a white or black finish and can be recessed directly into the ceiling, wall-mounted or suspended from the ceiling to ensure they blend seamlessly into their surroundings. Featuring the most advanced heating technology on the inside and a premium, translucent ceramic glass screen on the outside, the Platinum Smart-Heat™ Electric Marine heaters spreads radiant heat evenly across a large area while minimising unwanted light emissions.
Request a Quote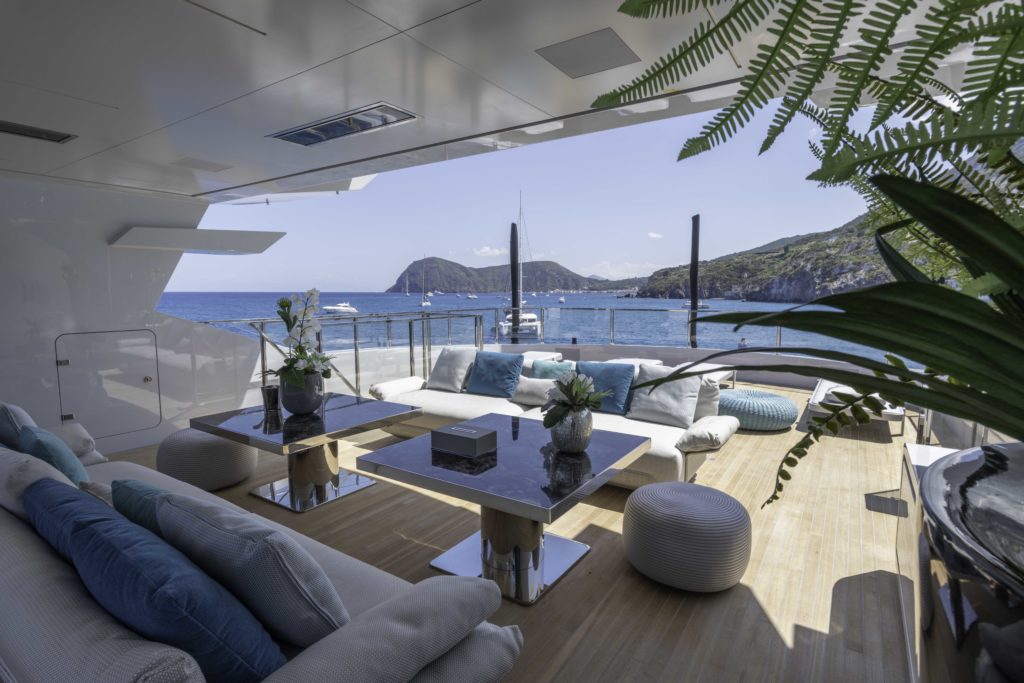 Add style and warmth to your patio, with Bromic's Platinum Gas range. This powerful heater combines elegant design with industry-leading technology. With its signature ceramic fascia in a sleek black finish, the Bromic Platinum Gas will not only look great on your wall or ceiling, but will also quickly project radiant heat deep into your outdoor area (up to 20m2) while adding an extra layer of comfort with its soft red glow. The Platinum Gas series successfully overcomes winds of up to 20km/h, keeping you and your guests warm in any condition.
Request a Quote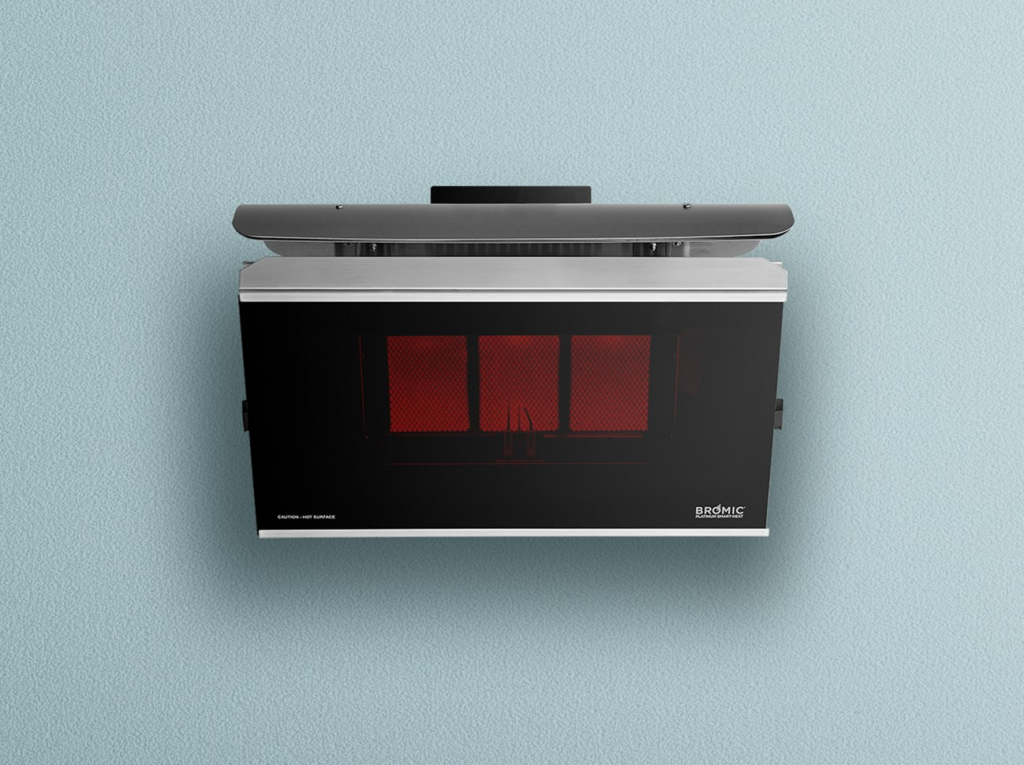 Tungsten Smart-Heat™ Electric
Expand your living space with the Bromic Tungsten Smart-Heat™ Electric series. Combining stylish, industrial design with market-leading radiant heat technology, each Tungsten Electric heater will provide an even flow of warmth to outdoor spaces of up to 15m2. The heater's high-temperature coating and stainless-steel construction make it suitable for all environments.
Tailored outdoor heating has never been easier, with four models ranging from 2000W (2kW) to 6000W (6kW) and the ability to separately control the individual elements of the 4 kW and 6 kW models. Choose from wall mounting, pole mounting or recessed mounting options.
Request a Quote
Turn up the heat with the Bromic Tungsten Smart-Heat™ Gas Series. This powerful radiant heater can quickly heat up outdoor areas of up to 20m2 , providing a comfortable, warming red glow all year around. With its stylish matte black design and exceptional wind resistance of up to 8mph, this heater will keep you and your guests warm at any time of the year. Chose between 25 MJ and 42 MJ heating power and natural gas or propane (LPG) options.
For low clearance areas, we recommend a heat deflector to protect the mounting surface. This accessory will also provide improved weather resistance and a more directional heat output.
Request a Quote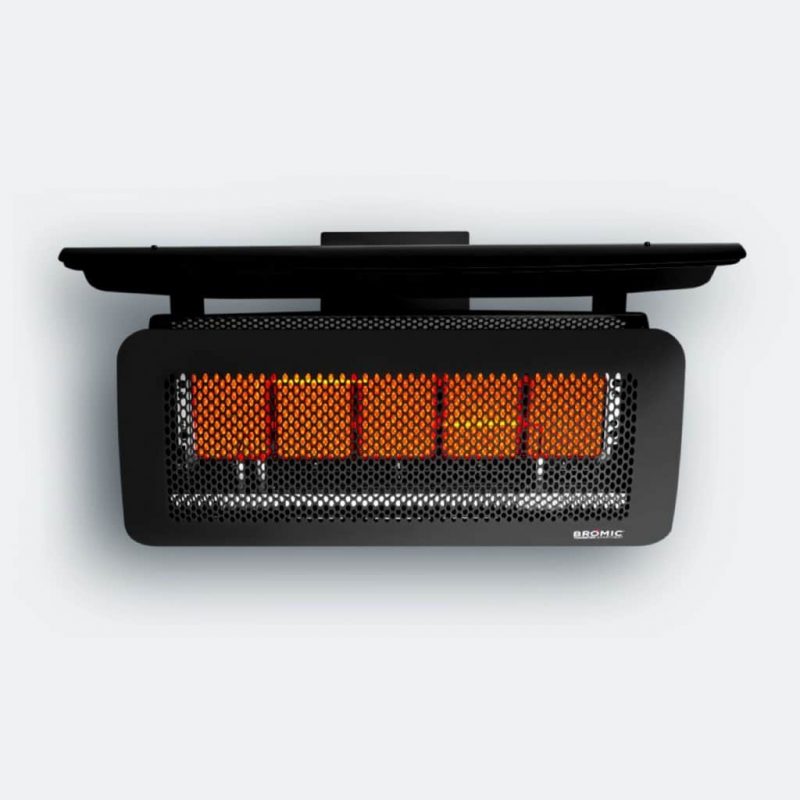 Tungsten Smart-Heat™ Portable
Up to 3 times more efficient than traditional Mushroom heaters, the Bromic Tungsten Portable Gas heater has got you covered! With its award-winning, matte black finish, it's a piece of modern art and a high-performance radiant heater in one, creating comfortable warm environments in areas of up to 20m2.
This highly efficient heater easily overcomes winds of up to 13km/h and wastes little to no energy thanks to its use of directional heat, making sure the heat ends up exactly where it's needed.
Request a Quote